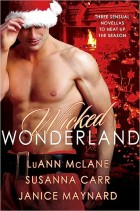 by LuAnn McLane, Susanna Carr, Janice Maynard
NAL, $14.00, 320 pages
Snowed in during a blizzard in March, this book proved to be great company! The three novellas are HOT, to be sure, and while the book is labeled Contemporary Romance, I think it's about halfway between romance and erotica. Along with great characters, it's also well-endowed with laughter.
Hot Whisper refers to the town of Whisper, which heats up pretty quickly when Claire Collins misses the train out, and is rescued by Jesse Marshall—and his sumptuous log cabin in the wilds of Colorado.
An office party gone bad starts the action in Hot for the Holidays, leading Rachel Bartlett and Justin O'Rourke down pathways they'd never considered before that occasion. Mercy!
Alaska's darker than most winters offer only four hours of daylight, but in Hot Arctic Nights they are highly desired. Hollie Prentiss, who's lost her hotel manager job, agrees to watch over a B&B during the Christmas holidays. She has all sorts of instructions, but they forgot to tell her about the long-term resident, Daniel Reynolds.
Still, it's the storytelling that really counts, and you can't go wrong with these three authors. LuAnn McLane, Susanna Carr and Janice Maynard are all terrific, and should be on anyone's list of favorites.
Reviewed by Kelly Ferjutz