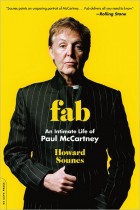 by Howard Sounes
Da Capo Press, $20.00, 600 pages
FAB: An intimate life of Paul McCartney takes readers beyond the success of the Beatles, the pop culture icons and classic musicians and sheds light upon their life before stardom. The author of FAB, Howard Sounes, writes with so much heart he makes readers feel as though they're walking with Paul McCartney through his life, starting as a boy and addressing issues arising with money and family. Later, it discusses how Paul met John Lennon and formed their friendship. However, instead of a historical play-by-play, the book sucks readers into the fledglings of friendship and the deep relationships that made the fab four the best band in musical history.
Addressing conflicts and emotions the band had, explaining where the inspiration for songs came from and reminiscing about old times when all were happy takes a band full of legends and turns them into people; incredible, amazingly talented musical gods of people, but people nonetheless.
A slew of images are in the book, classic black and white pictures showing Paul as just a young boy in grade school, all the way through his recognition into the music hall of fame. The images are personal and far removed from the mainstream iconography seen on postcards and posters around the world.
FAB is an essential piece to add to any Beatles fan collection because it gets inside the mind and the history of the only remaining vocalist for one of the best musical groups the world has ever seen. I highly recommend it to anyone who loves music.
Sophie Sestero