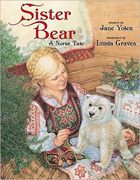 By Jane Yolen
Marshall Cavendish Children's, $17.99, 32 pages
Halva is a young girl who lives in Finnmark. As Halva was walking through the woods she found an adorable white cup bear and wrapped it up in her petticoat and took her home to care for her. She named her Sister Bear. Her parents did not think keeping Sister Bear was a good idea to keep this bear cub as she would soon grow big and maybe even eat them.  Well, Halva spent a lot of time with her bear cub as she was growing up and trained her. Now it was time to show her off and visit the king. The bear danced to Halva's music on the wooden flute, and became very attached to Halva. The story is an adventure on how they meet up with a pack of trolls who cause trouble and make a big mess of things. They try to be scary and do some ornery things.
The illustrations by Linda Graves are breathtaking. Each illustration is so gorgeous that you could hang any one of them up on your wall. These realistic illustrations are just stunning to say the least. The eyes, the faces, even the colors on the wardrobes are exquisite. Definitely a two thumbs up!
Reviewed by Rhonda Fischer
[amazon asin=0761459588&text=Buy On Amazon&template=carousel]