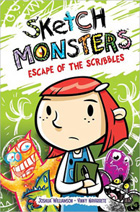 By Joshua Williamson, Vicente Navarrete
Oni Press, $12.99, 46 pages
Eight-year-old Mandy has trouble expressing her emotion. When her friends surprise her with a birthday party or when she is stung by a bee, Mandy doesn't show her feelings. Her college bound older sister gives her a sketchbook to draw in whenever she needs help expressing herself. Mandy loves creating her book and she must solve a missing monster mystery! Sketch Monsters: Escape of the Scribbles, by Joshua Williamson and Vinny Navarrette, is a graphic novel for tweens ready for a fun adventure. Mandy learns that in order to get the monsters back into the empty pages of her book, she must express how she feels about them. Can she tell the Love Monster how much she cares about him? Will Mandy admit she is missing her sister and trap the Sadness Monster? The panels are filled with bright, colorful monsters on the run. Many young readers will likely identify with Mandy's problem of talking about feelings. The big lesson centers on the idea that sharing emotions is a healthy way of dealing with feelings. The comic's creators promise a new volume of Sketchbook Monsters where Mandy learns she isn't the only one with a magic sketchbook.
Reviewed by Kathryn Franklin
[amazon asin=1934964697&text=Buy On Amazon&template=carousel]