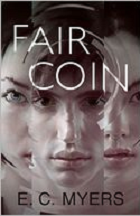 By E. C. Myers
Pyr, $16.95, 250 pages
Ephraim Scott's life changes when he comes home to find that his mother has overdosed after identifying what she thinks is his body in the morgue. Among the affects recovered is a coin, which Ephraim discovers can apparently be used to grant wishes, but has the nasty effect of making other changes in the world to grant the wish. As Ephraim learns more about the coin and its real purpose and design, he realizes that the effects he is causing are becoming deadly. He must work to put things back before it's too late for him.
Fair Coin starts with an intriguing idea that becomes more interesting as the story develops.  Ephraim is a solid focal point for the book and is very relatable to the reader – moral, smart, vulnerable and loyal to his friends. The plot develops nicely and takes some interesting turns that keep the reader engaged throughout. The story shows Ephraim's struggle between his desire to make things easier for him and to do what is right. This is a great book that fans of fantasy or science fiction will enjoy.
Reviewed by Barbara Cothern
[amazon asin=1616146095, B007C6PTN8&text=Buy On Amazon&template=carousel]