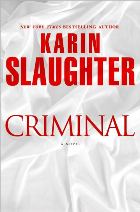 By Karin Slaughter
Delacorte Press Hardcover, $27.00, 434 pages
While many view the 1970s as a progressive era in terms of women's lib and civil rights, author Karin Slaughter reveals how this decade still wasn't easy for women or minorities navigating the work force. Criminal opens in Atlanta in 1974 when female police officers were hard to come by and were for the most part ridiculed by their male counterparts. Slaughter details how Amanda Wagner wasn't always the tough-as-nails boss that Georgia Bureau of Investigation agent Will Trent knows now. She feared her father, the former Zone 1 captain of the Atlanta Police Department, and she was overly cognizant of making a good impression among the men in the department. When she teams up with colleague Evelyn Mitchell to investigate a murder in one of the city's most violent neighborhoods that may be linked to a host of prostitutes gone missing, they really invoke the ire of the Atlanta Police Department.
In Atlanta today, Will Trent is trying to keep his troubled past at bay when he discovers that Amanda Wagner is keeping him off a case that could be linked to the murders 40 years ago, as well as to the mystery of his parentage. Slaughter tactfully explores the racial tensions and issues of gender equality that were rampant in the 1970s, and couples it with a high-profile murder investigation set in the present. Readers will find a thoughtful, compelling thriller from one of the genre's best.
Reviewed by Laura Di Giovine
[amazon asin=0345528506&text=Buy On Amazon&template=carousel]