When I went to Wordstock the first time in 2011, I was completely unsure of what to expect. I had vaguely heard of it from co-workers in the past but had never looked into it on my own. So I was intrigued when I had the opportunity to go as a volunteer for Portland Book Review last year. It was a fantastic event – famous keynote speakers, hundreds of vendors coming out to publicize their books, products or services and people en mass from every walk of life. The visitors of the event were animated and excited and a wide array of characters (literally – some people dressed as book characters). The entire event was a delightful blur of excitement and high spirits.
With memories of last year in my mind, I eagerly awaited this year's Wordstock festival. With the previous year's festivities still fresh in my memory, I figured that this year would be no different. I was wrong. Happily, as it turns out.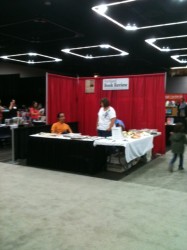 This year's event was markedly more subdued than last year. There were no visitors dressed up as characters from their fantasy novels. While there was a steady stream of attendees, no one had to jostle or wait long at any booth to speak with publishers or booksellers. They had time to talk and have actual conversations instead of just a thirty second sales or information pitch. This year I had time to talk with the scientist-turned-author who is writing a book about a local pub. I had time to tell local author William L. Sullivan that I enjoyed reading his new book. There was time to discuss with several people the field of book reviews in general and debate the merits and drawbacks of paid reviewers versus unpaid. For me, the day represented what Wordstock is all about: people talking to each other about books, writing and the publishing field. And it made for a marvelous day.
This year I walked away from the Wordstock festival with inspiration from the authors who struggle to first, write a book and then, get it published and the small local publishers who struggle to get all their books sold. This year felt less about national bestsellers and more about the books that don't have a large publication house behind them for promotion. It renewed my determination to continue to review the more obscure books and do my small part as part of the Portland Book Review team to help those fantastic yet unknown authors find an audience.
---
Barbara Cothern reviews for Portland Book Review.