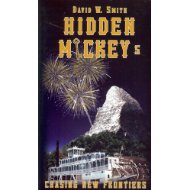 We're Going to Disneyland!
By David W. Smith
Synergy Books Publishing, $12.99, 572 pages
Do you love Walt Disney and Mickey Mouse? Have you been to Disneyland so many times, you can get around from ride to ride without using the theme park map? If so, you're likely a Disney super fan…and you probably think that when it comes to Disney, you've seen it, done it, and read it all. Not so fast! Author David W. Smith, co-creator of the Hidden Mickey series, has a surprise in store for you. Hidden Mickey 5: Chasing New Frontiers takes readers on an exciting adventure-filled journey as two characters search for long-lost Disney fortune. Cast member Blain Walters and park visitor Missy Johansen discover an old wallet with clues to a decades-old mystery. Soon they set off on a treasure hunt of a lifetime.
Smith knows what he is writing about – combine his six years of experience working at Disneyland in the late 1970s and early 1980s with years of dedicated Disney research and you have an author with an inside perspective and an authentic voice. It is clear that Smith has an immense amount of respect and admiration for Walt Disney and Disneyland. Smith's enthusiasm is contagious – don't be surprised if you find yourself planning your own Disney trip after reading this fun adventure.
The chapters alternate between past and present and include descriptions of Disneyland specific to each time period. For example, a character in 1966 admires the Skyway buckets, a now-retired ride that used to be suspended high up on thick cable and transported guests between Fantasyland and Tomorrowland. Smith incorporates bits of fascinating information like this, teaching even the biggest Disney history buff something new.
Although this is the fifth book in the Hidden Mickey series, it can be read as a stand-alone novel. But any true Disney fan should go back and read the others, especially the first and second books. Punctuation and grammar errors do occasionally take readers out of the flow of the story, but it is easy to get back into the swing of things. There is a special feeling you get when you enter Disneyland. It's a combination of wonder, excitement, curiosity and anticipation. It takes a talented author to capture that feeling on paper when writing about a Disney experience. Smith successfully conveys Disney magic in his action packed story of adventure, romance and mystery. Walt would be proud.
Reviewed by Kathryn Franklin
[amazon asin=0983261628&text=Buy On Amazon][amazon asin=0983261628&text=Buy On Amazon&template=carousel]