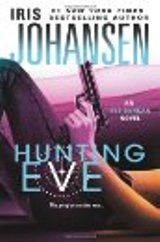 The Second of a Trilogy of Exciting Eve Duncan Thrillers
By Iris Johansen
St. Martin's Press, 385 pages, $27.99
Eve Duncan, a forensic sculptor, begins with a skull and models a face to help identify the lost for the sake of their families. Since losing her own daughter, it has become her mission. While her detective husband was out of town, she was kidnapped by a deranged man who wants her to reconstruct the skull of his dead son. He took her to a remote mountain location in Colorado, where she was held prisoner while her frantic family and friends searched for her. As others, including law enforcement and a paid assassin, hunt for her kidnapper, her attempts to escape become more and more hopeless.
The New York Times bestselling author Iris Johansen has long been known for creating unforgettable characters and suspenseful plots. Some previous works include Sleep No More, Close Your Eyes, What Doesn't Kill You, and many more. Taking Eve was the first in a trilogy in which Hunting Eve is the second.
Hunting Eve is a superb continuation of the story, with intriguing characters and breath-taking suspense, set against the backdrop of an abandoned gold mining area in the forested mountains of Colorado. The ending creates enormous anticipation for the final novel in this thrilling series.
Reviewed by Fran Byram
[amazon asin=1250019990&text=Buy On Amazon][amazon asin=1250019990&text=Buy On Amazon&template=carousel]