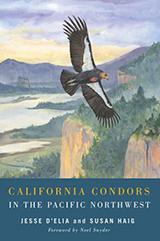 A Seriously Endangered Species

By Jesse D'Elia & Susan M. Haig
Oregon State University Press, $22.95, 208 pages
When a research project is carried out diligently and enthusiastically, the outcome can be satisfying even when the results are inconclusive. The California condor was fast disappearing, a seriously endangered species. In 1978, a task force was established to implement captive breeding as part of the recovery project. The history of the bird's past presence in the Pacific Northwest needed to be investigated.
Researchers Jesse d'Elia and Susan M. Haig, respectively with the U.S Fish and Wildlife Service and the USGS Forest Service, set out on a geographic and chronological quest that embraced paleontology, archeology, and anthropology. Readers with limited scientific understanding will likely be fascinated to learn the role the condor has played in Native American culture and mythology.
Tracking back over millennia, the authors sought to establish a clear picture of the northwestern range of the California condor. Despite fossil remains and other fragmentary clues, it was not possible to be conclusive. Their data included sightings by nineteenth century naturalists along with innumerable tangible and written sources. Ram Papish's wonderfully devilish drawings of the condor supplement the photographs, maps, and charts that illustrate the book.
Reviewed by Jane Manaster