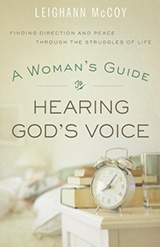 A Woman's Guide to Hearing God's Voice
By Leighann McCoy
Bethany House, $13.99, 240 pages
In her newest book titled A Woman's Guide to Hearing God's Voice: Finding Direction and Peace Through the Struggles of Life, Leighann McCoy taps into a timeless spiritual longing: How do we hear and respond to God's voice in our everyday lives? While McCoy's premise is astute – she argues that while we don't typically hear God's voice audibly, He is speaking to us constantly; the challenge is to learn to decipher His voice – she does not add much that is new to the conversation. A simple Google search nets page after page of books discussing how to hear God's voice. While McCoy shares personal stories and explores Scripture in each of her chapters, her discussion does not explore new insights or suggest new cultural or generational applications that would warrant yet another book on the topic.
"Are you eager to hear the voice of God? Are the struggles in your life drowning out His voice? Do you want God to bless you? Are you willing to hold on tight? If so, this book is for you."
A Woman's Guide to Hearing God's Voice reads like a "lite" version of Brad Jersak's 2003 book Can You Hear Me: Tuning in to the God Who Speaks. Unfortunately, too many Christian women authors take important theological considerations and reduce them to women's Bible study material that only grazes the surface of what could be discussed, virtually ignoring the canon that has preceded them – and McCoy's A Woman's Guide is no exception.
Reviewed by Jennie A. Harrop