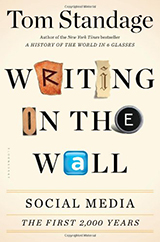 Read the Clues of History to Envision the Future

By Tom Standage
Bloomsbury, $26.00, 278 pages
Writing in the Wall shares the evolution of how communication happened from the beginning ages to present day. Standage references major events in history to prove his points. Communication happened at dinner parties where excerpts were read and books were copied. It was a slow and laborious process. In Roman times, the Roman elite formed a web of contacts (their social circle) where they shared information with each other. Since few could read, communication and printed materials really were exclusionary. Books were passed around and the popular ones were printed. Slowly pamphlets evolved and covered adversarial topics, which Standage compares to present-day blogs. In the 1600's the rise of coffeehouses happened and were used as places for discussion, innovation and sharing news. When one entered a coffeehouse, they were greeted with "What news have you?" Coffeehouses were divided by subject and if a person had news or interest in that subject, they would frequent that particular coffeehouse. Communication then evolved into scientific journals, newspapers and then the printing press (especially the steam press) catapulted newspapers into increased circulation with advertisements and the creation of the role of reporters. Then an era of one-way communication materialized with the radio and television. Finally when the computer introduced email, the internet, web pages, blogs and social networking the rapid fire advances we see today happened.
"By making it quick and easy for anyone to share information with others, modern social media gives ordinary people a collective agenda-setting power that was previously restricted to large publishers and broadcasters, and that is capable of striking fear in those in authority."
Standage's research is thorough as he details history and the evolution of communication from a cumbersome, elitist event to the printing press and then back to a more one-way communication with television and radio and then back to a two- way process. The need to communicate, collaborate and argue points of view have been consistent in history; only the tools have evolved. Although the book is content heavy, it does make a thoughtful read for those interested in how social media evolved into today's powerful tool.
Reviewed by Seniye Groff