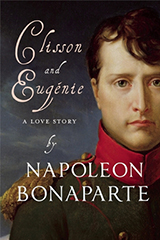 Yes, That Napoleon

By Napoleon Bonaparte, Translated by Peter Hicks
Gallic Books, $12.95, 77 pages
Napoleon Bonaparte was not only one of the greatest military leaders in history, but also a talented writer of short stories and essays. During the autumn of 1795, when Bonaparte was 26 years old, he wrote Clisson and Eugénie: A Love Story. Several reworked revisions were found and this version, consisting of six scattered fragments reconstructed and translated by Peter Hicks and Émilie Barthet, is considered to be close to the final draft.
"Eugenie, on the other hand, was like a piece by Paesiello which transports and elevates only those souls born to appreciate it, leaving ordinary people unaffected."
Clisson is a natural military man, showing great promise from a very young age, but then falls passionately in love with Eugénie. The life of combat and the life of domesticity are not easily blended into one. As pointed out by the accompanying analysis and interpretation, this is not just an autobiographical sketch but a piece inspired by contemporary literature, primarily from romantic, pastoral and epistolary novels. Clisson and Eugénie: A Love Story is for anyone interested in the enigmas of Napoleon or the history of French literature.
Reviewed by Sarah Hutchins
[amazon text=Buy On Amazon&asin=1906040273][amazon text=Buy On Amazon&template=carousel&asin=1906040273]