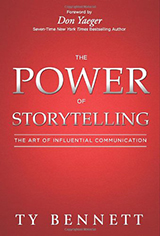 Powerful and Easy Read to Develop Your Storytelling Skills

By Ty Bennett
Leadership Inc, $19.95, 160 pages
Don't be fooled by this book's plain exterior and seemingly simple message. The Power of Storytelling offers a humble formula that is easy to learn and to practice. The book is divided into three practical subsets: Mindset, Skillset and Toolset. In the Mindset section topics covered range from understanding influence to the science of storytelling to the five places to use stories. Under the Skillset section, foundation, blueprint and delivery are covered. Finally in the Toolset section making stories compelling, dynamic and memorable are explained.
"Stories are an influencer's best friend.  If you are involved in speaking, selling, leading or teaching, then storytelling is a communication and influence strategy you need to master."
Ty Bennett shares numerous examples of how stories can dramatically change the outcome of a presentation if the presenter (or influencer) is thoughtful about the story and how they use it. Bennett contends that the presenter or influencer must first understand that telling stories is entirely about the audience. If the influencer presents from the audience's perspective, he will surely engage that audience. Bennett then shares the five tools of engagement. Concepts in the book are reinforced with video clips (links are provided in the book). The book shares all kinds of actionable tips and practical suggestions. If your goal is to become a master storyteller, this is a book you must read and implement.
Reviewed by Seniye Groff