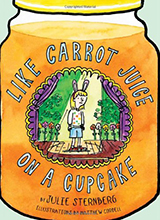 An Epic Tale of Friendship

By Julie Sternberg, Illustrated by Matthew Cordell
Abrams Books, $14.99, 192 pages
Like Carrot Juice on a Cupcake  is the latest Eleanor adventure from author and illustrator team Julie Sternberg and Matthew Cordell, the masterminds behind Like Pickle Juice on a Cookie and Like Bug Juice on a Burger.
Eleanor and her best friend Pearl must make room for a new girl at school, but will she come between them? Both Eleanor and Pearl want to befriend Ainsley, but competing for her attention strains their bond and drives Eleanor to do something she's never done before.
"Everything started changing that night after dinner,
when Pearl called me up on the phone."
Although this is the third installment in the Eleanor series, the novel is fully developed and able to stand on its own as a single book. Sternberg's epic poem for young teens demonstrates the challenges of keeping relationships strong with a quirky sense of humor. Cordell's illustrations appear every few pages, and add just a touch of whimsy while letting the story take the spotlight. His black and white sketches are simple and complement Eleanor's discovery that a girl can have more than one best friend.
Reviewed by Lori A. May