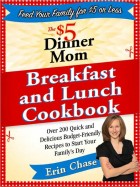 by Erin Chase
St. Martin's Press, $14.99, 325 pages
At times of economic hardships most budgets are trimmed to the bare bones. The $5 Dinner Mom Breakfast And Lunch Cookbook tells you how to trim it even lower.
The concept is great and living on the cheap is possible, yet you need to consider which you have more of: time or money. To eat on a minimal budget without sacrificing quality, you are likely to spend many hours planning, cutting out or downloading and organizing coupons, looking for weekly sales and working hard on menu planning. The first 28 pages give you plenty of ideas on how to trim the budget. The recipes give you the cost of every ingredient plus the overall cost. Below recipes are Frugal Facts providing useful information. Bound in the center, 16 half-page color photos illustrate some recipes.
Unfortunately, the book is full of errors: inconsistent prices from recipe to recipe, many of which are outdated. Where do you find a one-pound loaf of bread for $1.35? Or a dozen eggs for $1.20? It seems the information was compiled many years ago but has not been updated. The index is good and well cross referenced.
Reviewed by George Erdosh