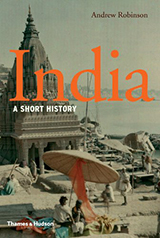 By Andrew Robinson
Thames & Hudson, $24.95, 248 pages
When a historian writing with considerable experience and expertise shows exasperation, inevitably readers must be bewildered. The succession of chapters in India: A Short History, reaching from the fourth millennium to the contemporary scene are interrupted time and again by the author's anguish at the uncertainty of his predecessors. History never follows a clear path, a truism if not a platitude, but with the attention Indian history has received, especially since the onset of British involvement, a reasonably clear path should have emerged.
To his credit and our appreciation, Andrew Robinson has focused on the country's panorama rather than simply the political thread.  He spotlights Gautama Buddha, Asoka, Shah Jahan and, latterly, Gandhi, the 20th century mahatma. Perhaps because there are no footnotes (though plentiful suggestions for further reading), this is promoted as 'not an academic book.' But it is hard to see who, other than academics, will enjoy the rivalry in research findings argued among past and present colleagues.
This is not a book for beginners. It assumes a background of knowledge about India's past and complexity on all fronts to appreciate the special perspective, especially deferring to filmmaker Satyajit Ray's visual interpretation, for many the best or only introduction to the sub-continent. The viewpoints Robinson presents are challenging. The title does little justice to either the author or the book.
Reviewed by Jane Manaster
[amazon text=Buy On Amazon&asin=0500251991][amazon text=Buy On Amazon&template=carousel&asin=0500251991]